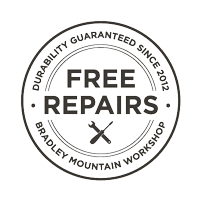 ---
When we sell you a bag we are guaranteeing you a quality product. With your purchase of a Bradley Mountain bag, you get free repairs for life! This is in reference to the expected life of the product. When a repair bag comes in our team will assess how the overall material structure of the bag is holding up compared to the ability to repair it. If your bag is seen able to repair we will fix it for FREE. Simply ship your Bradley Mountain bag back to the address below and we will repair it. Once the bag is repaired we will send you an invoice request for the return shipping costs. 
So much of our culture carries a mentality of hyper-consumption: "Use once and discard". We repair our bags for free because we believe in the fact that one quality purchase should last you for years.
To Get A Repair: Send in your bag with the following information TYPED: Name, Number, Order Number (if you ordered with us), your return address, and describe what you would like repaired.
Our goal is to extend the life of your bag. If the bag is damaged, we'll do our best to restore the bag back to its original function and design. We cannot offer custom alterations or additions with this free-program, but can negotiate alterations with an additional payment.
Free Repairs include: Canvas tear/hole patching, seam reinforcement and limited rivet and hardware replacement, and small leather component replacement. Zipper replacement for duffle bags is a $20 fee plus shipping. For further repair questions please email shipping@bradleymountain.com.
Bradley Mountain reserves the right to decide if a bag is beyond repair. If your bag is beyond repair we can offer you a 50% off discount on a new product (of equal or lesser value) as a trade in, or you can choose to have the bag returned.
We repair Bradley Mountain bags and jackets only.
You understand and expressly agree, by sending your bag in for repair to the address below, that we are not liable for any damages or loss of goods due to shipping issues and/or your failure to provide the information requested by us to process your repair. You are responsible for the shipping costs to get your bag to our facility. We recommend getting tracking for your order as we cannot vouch for items not delivered to our facility. 
Send to:
Attn: Repairs
1202 S. Garden 
Columbia, TN 38401
Include original order number with your order. 
*Items purchased as a "SAMPLE" are not eligible for repairs.